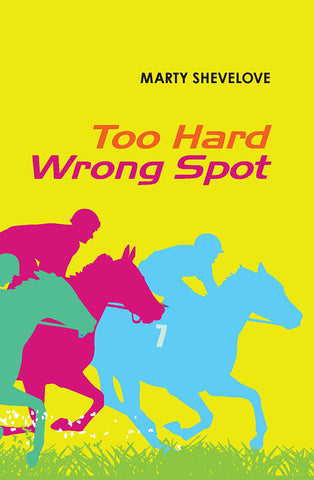 Too Hard Wrong Spot by Marty Shevelove | PB
Shouts of "stop the presses" are being replaced by the cry of "put it online, mate" and after 25 colourful years as a newspaper reporter and editor, Gary Delaney is having a hard time adjusting to the new digital age. A share in a promising overseas stayer with Melbourne Cup aspirations could erase the memories of a disastrous Mongolian mining investment. But two gamblers recently released from prison have a large cup wager of their own and threaten to derail Delaney's dream in the most unusual and amusing spring carnival Melbourne has even seen. 
A long-time racing fan with enough losing tickets to wallpaper a barn, Too Hard Wrong Spot is Marty Shevelove's first novel. If enough copies are purchased, the former journalist and his better half plan to set fire to their long underwear and move to the warm sunshine of Far North Queensland. He does not have an online betting account and can be found at his local TAB most Saturday mornings putting on a quaddie.
---
We Also Recommend