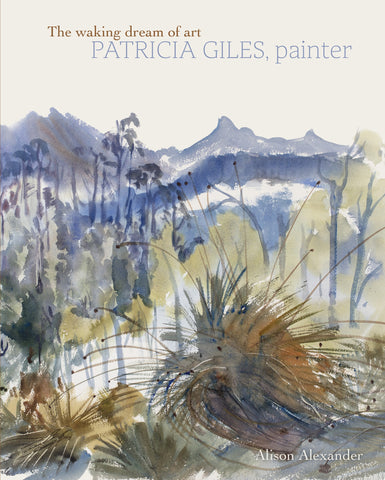 The waking dream of art: Patricia Giles, painter by Alison Alexander | HB
Patricia Giles remembers painting each of the 300 works in this book. She has regaled Alison Alexander with stories that make this a warm and engaging portrait of a leading Tasmanian artist – and a living treasure.
Patricia Giles has had a career as an artist spanning six decades. Painting en plein air through the challenging weather of Tasmania – sometimes even tied down to avoid being blown away by the Roaring Forties – Patricia captures the light, the landscape and the ever-changing beauty of her island home. 
If you have marvelled at the turquoise waters of Tasmania's east coast, romped in the snow on kunanyi/ Mount Wellington, or travelled the wild interior with its rugged mountain ranges and still waters, you can see these captured in Patricia's evocative paintings. A chapter is devoted to Patricia's poignant watercolours of Lake Pedder, now drowned. 
This long-overdue book, by award-winning biographer Alison Alexander, tells the story of Patricia's drive to make her way as an artist in an era when young women were expected to take on the role of wife and mother, and put their paintbrushes aside.
---
We Also Recommend