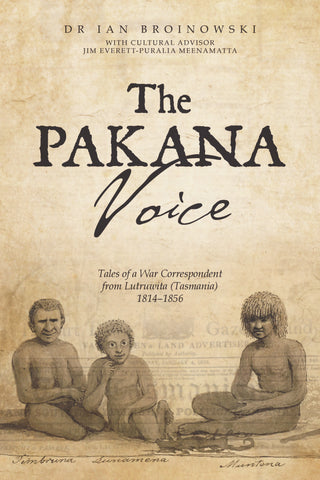 The Pakana Voice: Tales of a War Correspondent from lutruwita (Tasmania) 1814-1856) by Ian Broinowski | PB
Historical narrative created in consultation with cultural advisor, Jim Everett-Puralia Meenamatta
THIS BOOK IS ABOUT NEWSPAPERS AND THE POWER OF THE PRESS TO SWAY OPINION
The main narrative voice is that of W.C., a somewhat hapless war correspondent, posted to Tasmania to cover the conflict between the Pakana people of Lutruwita and the British, in the years 1814 to 1856.
In old age, comforted by malt and his scruffy dog Bent W.C. looks back and shares his press clippings of graphic accounts of the events that unfolded in the early days of the colony. In the hope of learning more about the aboriginal people of lutruwita he befriended Rialim, a man of the Moomairremener clan of the Paredarerme (Oyster Bay) Nation.
He then met Lowana, a strong, intelligent and captivating woman with whom he  fell deeply and hopelessly in love with. She would eventually become a formidable warrior, ready and willing to fight and kill to protect her family, culture and land. Lowana was forever W.C.'s only love. The intensity of their passion and his time with the clan affected his whole life, irretrievably, both personally and professionally. He resumed his profession, but his contact with the Moomairremener led him to break the cardinal rule of war journalism: he took sides.
W.C.'s perspective on these events is not without its biases. He tries to temper his feelings as he shares with us letters, articles and opinion pieces from his collection. He includes of his own postings under the byline The Pakana Voice, in which he encourages his readers to see what is not being reported in the conventional press.
Despite technology with its fancy gadgets, little has changed in two centuries of media and its influence over the minds of people, W.C.'s words still ring true: 'I fear the  old adage that we learn from history is indeed a misnomer'.
---
We Also Recommend