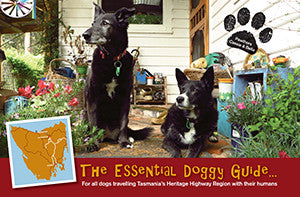 Essential Doggie Guide by Lorraine Green and Fiona Dewar | Paperback
Written by 'pawthors' Cassie and Bella for all dogs travelling Tasmania's Heritage Highway Region with their humans.
If you're planning a trip to Tasmania's Heritage Highway region and you're wondering what to do with your pet dogs while you're away, this book has the answer. Take them with you.
More and more Australians are taking their dogs on family holidays, so who better to write this visitor guide than two pawthors who live and work in the historic heart of Tasmania. Cassie and Bella provide advice on getting to Tasmania by sea or air, regulations related to bringing dogs into Tasmania (eg, heart worm and hydatid tapeworms do not exist in Tasmania so there are medications that need to be administered), veterinary facilities and safe car travel for dogs. Cassie and Bella know all the dog-friendly places to stay, eat and play in towns and villages such as Evandale, Perth, Longford, Fingal Valley, Campbell Town, Ross and Oatlands. They also uncover the colonial history of convicts and bushrangers, and highlight the magnificent architecture and landscape of the Heritage Highway region.
This engaging, cheerful book will help you plan a holiday with your best friend and save you hours of research into travelling with dogs in Tasmania.
---
We Also Recommend