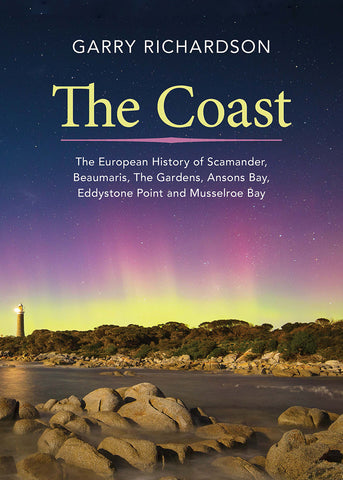 The Coast by Garry Richardson | HB
The European history of Scamander, Beaumaris, The Gardens, Ansons Bay, Eddystone Point and Musselroe Bay
The northern and north-eastern coastal reaches of the East Coast of Tasmania was the 'forgotten sector of Tasmania', where settlers recounted tales of crossing rivers that appeared to be 'unbridgeable'. Here on the Coast, the rest of the island was far, far away.  
This final volume in Garry Richardson's series covering the history of the former Portland municipal area, details the trials and tribulations associated with settling the Coast. Even in the late 1890s and the early 1900s there were extreme swings of weather; farming families travelled over miles of beaches in their drays to market their produce; and the subject of roads was a constant reminder of the frontier mentality of the area. 
Garry recounts stories of soldier settlements around Ansons Bay and of the Eddystone Point lighthouse keepers and their families, where heartbreak and adventure were often experienced in equal measure. He also relates an account of 'The Branches' homestead near Musselroe Bay, a far-flung outpost for a young bride.
This history of the Coast is enhanced through historical images and oral histories which reveal the story behind the history. 
"I take this opportunity of applauding Garry with this the final edition in the Portland series and submit the contents to the reading public as a way of getting to know the locals on 'the Coast'." ~ Kym Matthews, Curator of the St Helens History Room
---
We Also Recommend