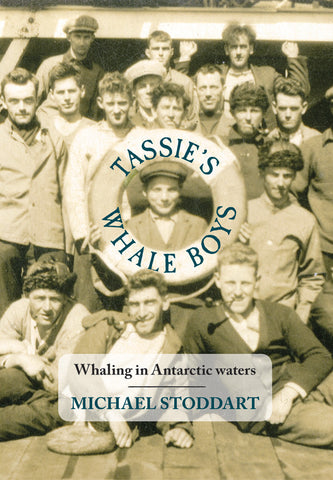 Tassie's Whale Boys: Whaling in Antarctic waters by Michael Stoddart | PB
In the 1920s the Norwegian whalers called into Hobart with their factory ships and harpoon guns. Their cruel slaughter eventually brought the huge fin and blue whales in the frigid water of Antarctica's Ross Sea to the brink of extinction. In October 1923, twelve young Tasmanian men signed on for 'the adventure of a lifetime' and altogether 132 Tasmanians joined the Norwegian whaling expeditions over the eight following summers. All of them sought adventure, and none was disappointed.
They called themselves 'Tassie's whale boys' and this is their story.
Their diaries tell of long arduous days among stench and filth and of the cruelty of industrial whaling; they tell of biting cold, the omnipresence of danger from ice and storms, dreadful food, and the minuscule pay at journey's end. They also tell of the special camaraderie engendered when spirited young men share such an adventure, and of their unbounded admiration for the solid, dependable Norwegians in whose trust they put their lives.
The contrast of industrial whaling with the supremely beautiful Antarctic environment was not lost on any of the young men. Even the least articulate among them tried to express something of the grandeur of Antarctica as the iridescent sun shimmered over the summer horizon.
---
We Also Recommend