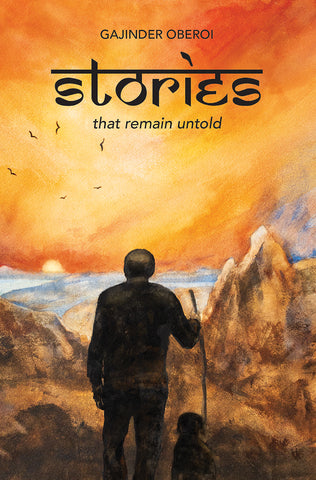 Stories that remain untold by Gajinder Oberoi | PB
NOW AVAILABLE
A collection of bittersweet stories that ring with compassion, understanding and empathy.
"The tales in this collection are about us, with many serving as a poignant reminder of our grim past. These are not just cynical narratives but an attempt to bring to light various facts of our society, especially the ones which have remained hidden. This collection is a humble attempt to preserve historical facts and the realities of our lives for future generations." ~ Gajinder Oberoi
 
"…when a medical professional who has written several stories over a period of time brings them out of the bottom drawer of his desk … it is certain that these stories will ring with the compassion, understanding and empathy. Even a degree of understandable pessimism, for his encounter with pain and death is as real as his encounter with other aspects of human behaviour. The stories don't preach. Instead, they show us life's truths and how we try to come to terms with them as best we can."
~ Abha Iyengar, award-winning poet, author and editor.
 A collection of bittersweet stories showcasing the helplessness and loss faced by the common man. Tinged with sadness these stories have life lessons for all of us. Each story spins a tale that pulls you in, leaves you stumped with the finale and wiser to the wilful ways of man. Written in a clear, easy manner Gajinder Oberoi's stories evoke a sigh with their thought-provoking humane angle.
~ Inderpreet Kaur Uppal, editor and author
 These stories are subtle and special, and each quite different from the other. They vary from slow-burn to pithy. Written over many years, there is a lyricism to Gajinder's language and a levity of wit, interspersed with poignancy and occasional visceral descriptions of these bodies that carry us through.
~ Rachel Edwards, ABC features reporter, independent publisher, editor and writer

---
We Also Recommend