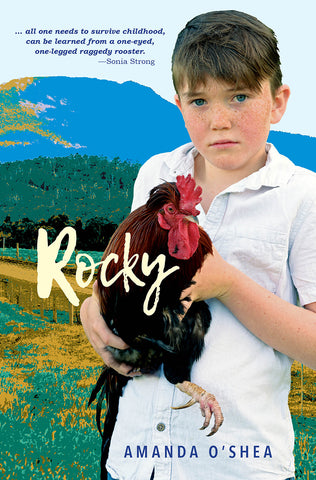 Rocky by Amanda O'Shea | PB
"...fast-paced and humorous...a very Tasmanian tale (which) touches on some of the more difficult aspects of childhood such as loss, hardship, bullying and family relationships" Sonia Strong, author of Tazzie the Turbo Chook Finds her Feet and The Boobook's Nook
Ollie lives in Deloraine, Tasmania with his aunt and uncle. One day, at a local truck stop, Ollie finds Rocky, a one-eyed, one-legged rooster with a taste for rotting hamburgers. Reluctantly, his uncle agrees to bring Rocky home... and it's a disaster.
Rocky's escapes, thefts and bird-brained antics throw Ollie into the path of other townspeople, including vivacious Tori who lives next door. Her friendship gives Ollie the strength to deal with challenges, including facing the local bully, Dirk.
Hilarious and heart-warming, this is a story about a boy and his rooster, but it is also a tender exploration of individuality, courage, resilience, grief and love. 
For middle to upper primary readers
---
We Also Recommend