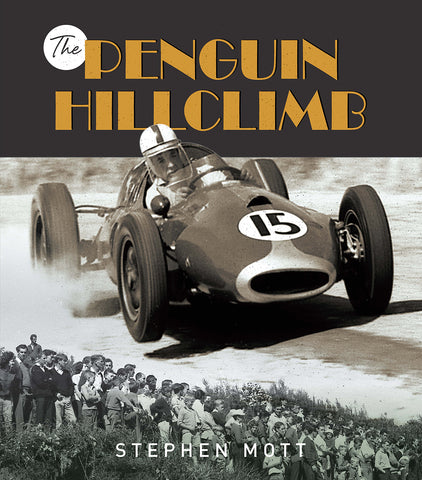 Penguin Hillclimb, The by Stephen Mott | Hardback
Grand Prix cars competing against home-built specials and humble family sedans on a suburban road in a seaside town in north-west Tasmania, large crowds watching the best drivers from Tasmania and beyond on a fast and challenging course – this was the Penguin Hillclimb, an immensely popular motorsport event that ran from 1955 to 1971.

The Penguin Hillclimb may have slipped from the general public's consciousness, but for those lucky enough to witness the sight, sound and smell of this exciting event first hand, it left a lasting impression. It is unlikely that many people on the north-west coast would otherwise have seen a road-going sports car such as an Austin Healey or Jaguar XK, but at Penguin all sorts of exotic cars could be seen and, unlike at a motor show or dealership, they were being driven fast. Perhaps most extraordinary was the sight of open-wheel racing cars powering up the hill.

Stephen Mott relates the history of the Penguin Hillclimb through individual race reports complemented by superb period photographs, most of which have never before been published. Mott pays tribute to drivers and officials, and traces the history of some of the most fascinating cars that competed, some previously driven by the greatest Formula One drivers of the era.

---
We Also Recommend