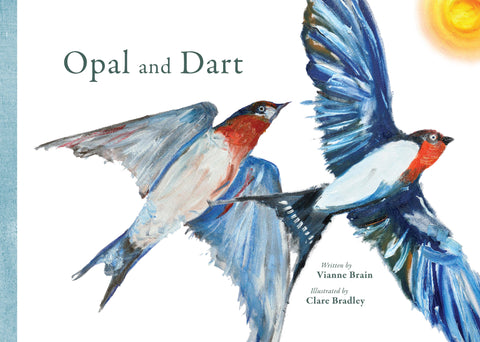 Opal and Dart | Writer, Vianne Brain & Illustrator, Clare Bradley | HB
Opal and Dart, beautiful swallows, met as fledglings learning to fly. Together they must travel incredible distances, fend off malevolent sparrows, and build their nest so that future generations can follow their journey.

Sumptuously illustrated by Clare Bradley, this delicate, heart-warming, informative book will inspire children and adults alike with a fresh fascination for the birds of Tasmania.
Short List CBCA 2023 Book Awards: Judges' comments
A visually stunning, high quality, imaginatively presented information picture book. The front cover and eye-catching endpapers capture immediate attention. Readers will be fully gripped in the suspenseful 'goodies vs baddies' narrative about the migration journey and breeding of swallows. Layout and design achieve maximum impact, from the clever placement of the imagery and text to the tactile appeal of the heavier paper. Evocative, descriptive language draws attention to vivid, non-stereotypical illustrations. The black and white pencil sketches and coloured paintings on canvas effectively integrate with the text. Bird facts and referencing, including a migration map, are useful sources encouraging further reading.
---
We Also Recommend