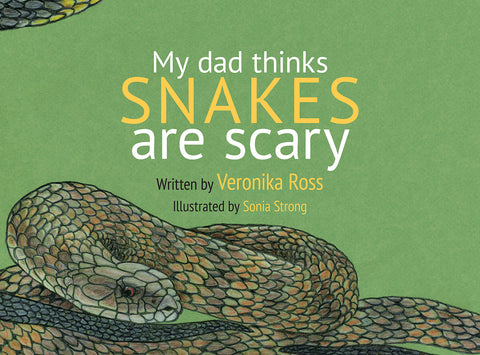 My Dad Thinks Snakes are Scary | Written by Veronika Ross, illustrated by Sonia Strong | HB
As a professional snake handler, Veronika Ross has a love for snakes and for educating people on all things snake-related. She understands the fear and misinformation that lead people to make inappropriate and sometimes dangerous decisions around snakes. Veronika created this book to complement community education sessions and give children and adults a shared opportunity to bust the myths surrounding her favourite Tasmanian animals. 
By using a story from her own childhood, Veronika has created an avenue for children to learn the truth about Tasmanian snakes. Her story is beautifully illustrated by the artwork of Sonia Strong (author/illustrator of Forty South publications, Tazzie the Turbo Chook finds her feet and The Boobook's Nook) and includes practical information on being safe around snakes.   
FOR TEACHERS: Free additional resources are available. Click here to download.
---
We Also Recommend