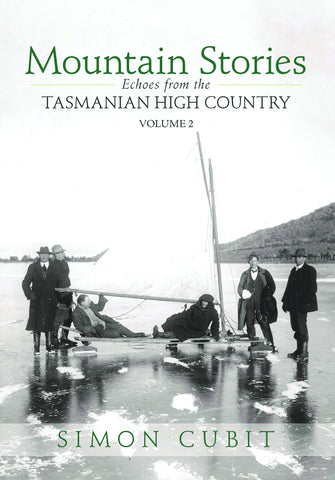 Mountain Stories Volume 2 by Simon Cubit | PB
PLEASE NOTE THAT MOUNTAIN STORIES VOLUME 1 IS OUT OF PRINT but still available in some retail outlets. 
Mountain Stories: Echoes from the Tasmanian High Country, Volume 2 is a collection of nearly 50 never before published stories, illustrated in most cases with an extraordinary range of historical photographs. It is a unique series of historical musings about people, places, huts and events of the Tasmanian high country.
From Simon Cubit's Introduction
I have held a major interest in Tasmanian high country history for decades. A family connection to Lees Paddocks, the experience of personal land ownership in the Upper Mersey, an abiding respect for high country people and almost countless recreational visits have all contributed. Over those decades, I have also been an active researcher, and have recorded the personal experiences and recollections of a large number of mountain people, the vast majority of whom have now passed away. Blend that with formal academic training as a historian, and a personal penchant for storytelling and, for better or for worse, I find myself in a position where, some would say, I possess a rare overview of the history of the Cradle country, the Upper Mersey, and the broader Central Plateau.
The consequence of all this has been a keenly felt responsibility to 'download' what I have learned over time and to leave a historical legacy. My hope is that in documenting these mountain stories and putting them to paper I have done justice to the faith of that subscriber in 'putting these memories into print and preserving them forever'.                       
---
We Also Recommend