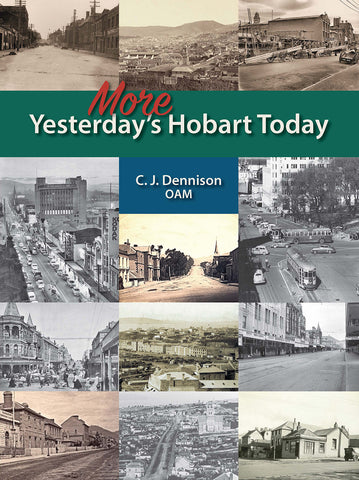 More Yesterday's Hobarts Today by Colin Dennison | Paperback
Following the success of Hobart's Yesterday's Today (Hobart City Council, 2013), Colin Dennison has compiled another wonderful collection of historic and contemporary images for a street-by-street look at Hobart's past and present.

Colin is well known as an amateur historian and collector of historical photographs. In More Yesterday's Hobart Today hundreds of his extensive collection appear alongside maps denoting the location of buildings and historic sites. Colin has also included some general street scenes from the early 1800s through to the 1950s. Readers will be transported back in time to see delivery drivers in Hunter Street taking loads of apricots to IXL, the early trams sharing Liverpool St with bicycles and horses, and crowds lining the street for the funeral of the then Governor's wife, Lady Clark, just before the end of World War II.

---
We Also Recommend