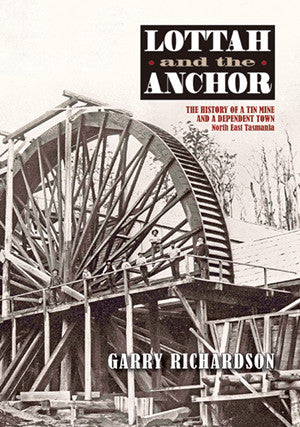 Lottah and the Anchor by Garry Richardson | Hardback
Lottah and the Anchor: The history of a tin mine and an independent town
In the late nineteenth century tin was the metal of the age. This was a time of depression in Tasmania and the discovery of tin and the expansion of mining in general provided desperately needed jobs and revenue. In Tasmania's North-East pioneer miners contended with dense forests, almost impassable bush tracks, remoteness and loneliness. These men and women built tent settlements that grew rapidly into towns as tin boomed. They soon boasted hotels, schools, post offices, policemen, cricket and football teams, shops and churches.
The population of the North-East fluctuated with the price of tin. The mines ran their inevitable course to exhaustion and, as a result, the townships of the North-East that still exist around Blue Tier are mere shells of their past glory, while the rest have been rendered almost invisible by encroaching nature.
In Lottah and the Anchor Garry Richardson captures in exquisite detail this lost world. It is an exciting and vital part of the making of Tasmania and, as such, must not be forgotten.
---
We Also Recommend