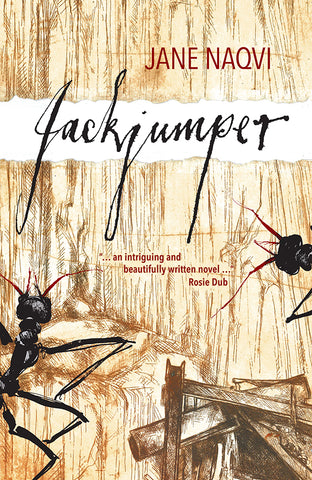 Jackjumper by Jane Naqvi | PB
"...an intriguing and beautifully written novel..." ~ Rosie Dub, author of Gathering Storm and Flight
"...a novel that is deeply moving and many layered..."  ~ Katherine Johnson, author of Pescador's Wake, Matryoshka, The Better Son and Paris Savages
It is an intriguing and clever read. The author has woven two worlds together with such authenticity.  The novel is breathtaking in its plot, and honest and brave in its self revealing. I loved it.  ~ Libby Goodsir (Tasmanian writer short listed for the Premier's Literary Prize and the People's Choice 2015)
***
Annie and Jak – mother and wayward son. Jak is playing silly buggers when he steps into a nest of jack jumpers.                              
     The first sting in the tale of his life trajectory.
Annie believes her destiny was unwittingly ordained through her father's deception, long ago in the wake of Mahatma Gandhi's assassination. Separate, violent events sabotage their lives and each is beset by guilt. They hide from the world and each other for seven years, Jak in India seeking redemption, Annie in Tasmania harvesting resentment.
     Unpredictable, like jack jumpers.  
When Jak rings Annie about a plan, born from his childhood dream to sculpt a café in the abandoned granite quarry on Tasmania's Freycinet Peninsula, she realizes he needs her.
     Will she exonerate and assist him? Or destroy him?
Included at the end of the book are discussion questions for Book Clubs.
***
About the author: Jane Naqvi lives in Tasmania between the bush & the sea. She has been a teacher and educator. She has published books, short stories and texts. She also loved to write and produce stage plays and musicals with students and the music staff. Jane was a finalist in the Tasmanian Writers' Prize 2019 with her short story, Jackjumper, adapted from this novel (then in progress). Jane is now a grandmother of seven, a traveller, bush walker & writer.
---
We Also Recommend