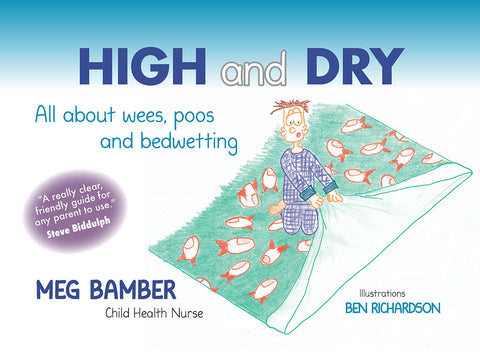 High and Dry: All about wees, poos and bedwetting by Meg Bamber | Spiral bound
Meg Bamber has worked for over 30 years as a Child Health Nurse in Tasmania and for the past 12 years has been part of the 'Wetaway' team (a program for children aged 5-18 years who are bedwetting and want to be dry at night). Meg's experience and affirmative care comes to the fore in this easy-to-read guide, which is full of helpful tips and encouragement for families struggling with night time wetting.
With illustrations by Ben Richardson, author/illustrator of graphic novels, The Gods Must be Disabled, Episodes 2 & 3

 "A really clear, friendly guide for any parent to use."     
~ Steve Biddulph, author of Complete Secret of Happy Children, Raising Boys, Raising Girls, 10 things Girls Need Most and The New Manhood
---
We Also Recommend