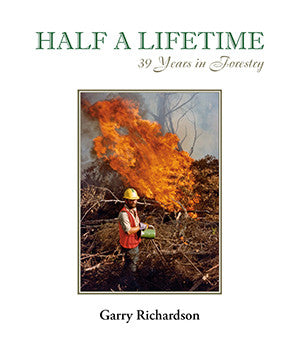 Half A Lifetime: 39 Years in Forestry by Garry Richardson | Paperback
Foreword written by Bob Gordon, Managing Director, Forestry Tasmania:
"Garry Richardson has crafted his personal history with 'The Forestry' which also highlights and gives life to many of the changes that have occurred in the last 40 years in the industry.
This publication adds to Garry's impressive achievements of publications from specific histories to panoramic photographs.
Garry's description of his working life with forestry from young, inexperienced trainee technical forester straight out of school through to an experienced and knowledgeable practitioner who acted as a reviewer and mentor, particularly during the introduction of the Forest Practices Code, is full of anecdotes which reflect the huge range of skills and life experiences which accumulate during a forestry career.
Garry's wit and wisdom comes through as he describes some of the most unusual events, and the friendships that developed both with other Forestry Tasmania staff and the broader forest sector shine through.
I had the pleasure of working with Garry from 1988 to 1990 when I was District Forester and Fingal ("Bob was hardly ever there"). His willingness to accept challenges such as being one of the auditors for the new forest practices system and his practical approach to finding workable solutions to operational problems were the hallmark of Garry's approach to work.
Garry always made it clear if he didn't agree with a proposal but was generally prepared to give it a go anyway.
He willingly shared his knowledge and experience and often acted as a guide and mentor to new employees and trainees.
Garry's book is an interesting read and gives insight into the world of forestry. I commend the book and Garry's achievements."
---
We Also Recommend