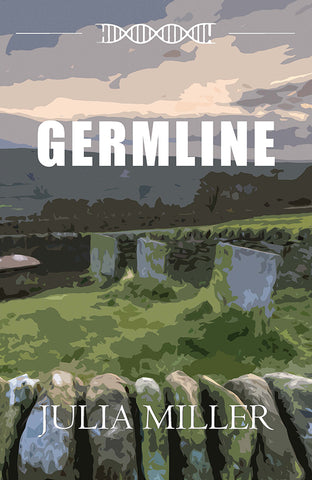 Germline by Julia Miller | PB
Science, history, romance and mystery merge together in this thriller, set in a world that Charles Darwin could never have imagined when he popularised the phrase 'survival of the fittest'.
***
AMDAT Tower casts long shadows across Melbourne streets. Bougainvillea weaves its thorny tentacles around the columns and into the crevices of its steel and glass facade. From the penthouse, scientists Daniel Grant and Vaughn Lambert observe the 2074 intake of medical students. Below them, bats breed in plastic caves while researchers conduct experiments and analyse the data from billions of implanted health chips. In this post-pandemic world people have been eager to exchange their right to privacy for premium health care.
Dr Ellen Hancock, raised in New Jersey, now lives and works in Melbourne. She survived the 2064 avian flu pandemic, but is unaware of her superior immune system. When a teenager is found dead in her hometown and four others go missing, her childhood sweetheart Detective Patrick O'Connor investigates. Ellen is drawn into the mystery, along with her best friend's daughter, AMDAT medical student Zoe. Zoe has something Daniel and Vaughn want: how far will they be prepared to go to get it?
***
About the author: Julia Miller moved to Tasmania from Sheffield, England when she was 7 years old. She has worked as a high school teacher, a university lecturer and a nurse. It was on a visit to Eyam in Sheffield as an adult that she became fascinated with this 'plague village' and the story of plague survivor, Elizabeth Hancock. This, coupled with her nursing/psychology background, her interest in the science of microbes and climate change and her love of problem-solving, led to 'Germline'.
---
We Also Recommend