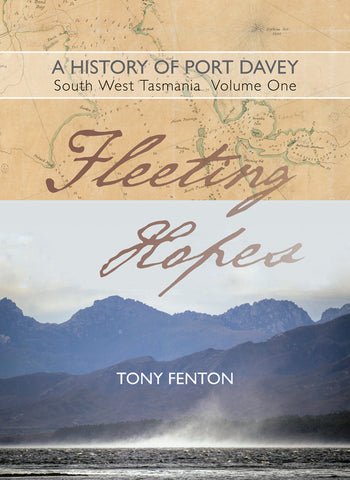 Fleeting Hopes: A history of Port Davey, South West Tasmania, Volume1 by Tony Fenton | PB
* Long listed for the Margaret Scott Prize in the Tasmanian Premier's Literary Awards 2017
* One of only three books short listed for the Dick and Joan Green Family Award for Tasmanian History 2018
Port Davey, in Tasmania's rugged South West corner, is roadless even today. Such a wild landscape suggests an untrodden past, yet Tony Fenton has unearthed stories of human hopes and schemes, courage and folly, avarice and downright hard work. A lost history, that of the Aboriginal people, is glimpsed from George Augustus Robinson's diaries as he made his persuasive journey into their country. Explorers, whalers and track-cutters came and went. The Huon pining industry brought families to settle at Port Davey, and prospectors hunted for mineral riches. Sailors were washed ashore on an uninhabited coast, to live or to die.
A few ventured to Port Davey out of sheer curiosity. Some found the vista forbidding, even 'repulsive…cheerless and solitary'. Playwright, David Burn, appreciated its grandeur: 'Nature in untarnished, primeval majesty reigns here supreme, whilst man looks on to wonder and adore.'
Tony Fenton has woven ground-breaking research into an intriguing narrative that reveals an unexpected past alive with people and plans, set in an impressive but unforgiving landscape.
This book complements two best-selling biographies associated with the area: King of the Wilderness: the life of Deny King by Christobel Mattingley and Win & Clyde: Side by side in Tasmania's far south-west by Janet Fenton. 
---
We Also Recommend