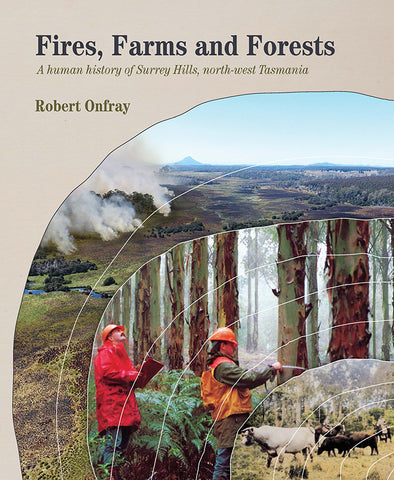 Fires, Farms and Forests: A human history of Surrey Hills, north-west Tasmania by Robert Onfray | Hardback
Inspired by the writing style of renowned Australian farmer and author Eric Rolls (A Million Wild Acres), Robert Onfray has created a fascinating human and anecdotal regional history which brings to life the rich past of Surrey Hills, a unique tract of land in north-west Tasmania. 
Fires, Farms and Forests is an environmental and cultural account of the changes in the landscape from the last ice age to the present day. It takes the reader on a journey of discovery: How the native grasslands were created using fire; the introduction of European farming; the search for valuable minerals; the construction of what is claimed to be the world's longest wooden tramway; unique hunting for fur in the short, mandated open season during winter; the genesis of the pulp and paper industry in Tasmania and the development of Australia's largest industrial-scale eucalypt plantation estate; and a remarkable account of one of the most isolated towns in Tasmania that existed for 87 years and suddenly disappeared.
This is a tale that needed telling. It is an important story about north-west Tasmania and a must-read for anyone interested in human history and land management. 
My goal in writing is to be accurate, authoritative, inspiring and entertaining 
~ Robert Onfray
TO CONTACT THE AUTHOR, read more about the book, follow Robert's blog and to read updates, go to www.robertonfray.com  
---
We Also Recommend