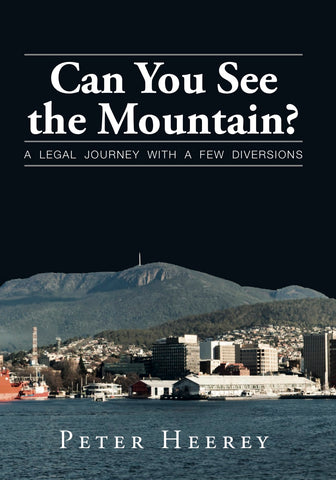 Can you see the Mountain? by Peter Heerey | HB
Peter Heerey AM QC is a passionate Tasmanian who grew up in Hobart, attended St Virgil's College and attained his law degree from the University of Tasmania. 
Peter moved to Victoria in 1967 to become a barrister. He was appointed Queen's Counsel in 1985 and appointed a judge of the Federal Court of Australia in 1990. While on the Court he also served as President of the Defence Force Discipline Appeal Tribunal and as a Deputy President of the Australian Competition Tribunal. After retirement he chaired the Australian Electoral Commission for five years. 
This is a story of life both on and off the Court. A member of the pre-baby boomer generation, Peter tells of growing up after the Second World War, university life and National Service in Tasmania in the 1950s, and some highlights, and lowlights, from 23 years at the Victorian Bar.
"Peter Heerey's writing is lucid, thoughtful and always observant." – Geoffrey Blainey
"Read over the weekend and greatly enjoyed."   – Saul Eslake, noted economist (and fellow Tasmanian)
---
We Also Recommend