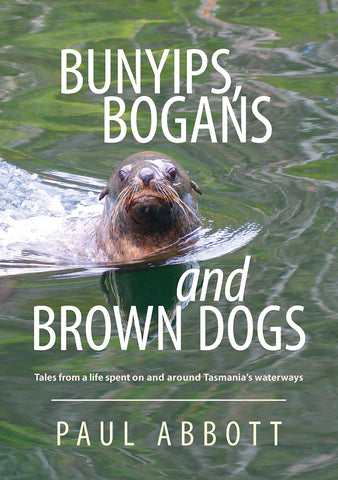 Bunyips, Bogans and Brown Dogs by Paul Abbott | PB
"This bloke has stolen my life. I wish I had written it. A very funny book. I believe almost every word of it." ~ Charles Wooley
Have you ever spent a night on an old wooden yacht on its side on a mud bank? Been bitten by a tiger snake and survived? Hugged an albatross? Been nearly drowned by a platypus? Operated a remote lighthouse? Been pestered by a pelican? Had a very close encounter with a humpback whale? 
Paul Abbott has - all these and more. 
Bunyips, Bogans and Brown Dogs is a collection of tales from his experiences – some mundane, most quite unlikely – accumulated over more than 40 years of fishing, boating and almost drowning near, on, and sometimes reluctantly in, Tasmania's waterways.
ABOUT THE AUTHOR: Paul Abbott was born in England, and migrated to Australia with his family at the age of nine, enduring six long weeks of debilitating sea-sickness in the process. Since arriving he has lived in Tasmania, with brief forays interstate and overseas. Paul obtained a BA in languages from the University of Tasmania in 1972 and has since enjoyed several careers (teaching English and modern languages, PR for the Education Department of Tasmania, and in a variety of both front-line and managerial positions in youth support work, employment services and vocational education.  He is now notionally "retired", although home food gardening as well as fishing, boating, writing, cooking and occasional consultancy work keep him constantly busy. This is his first full-length work to be published, but won't be the last!

---
We Also Recommend