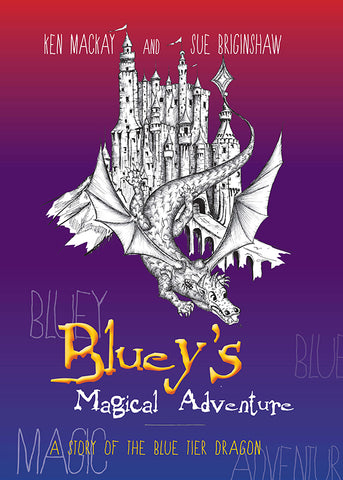 Bluey's Magical Adventure by Ken Mackay, illustrator Sue Briginshaw | PB
Dragon Magic, Snark hunts with Dragon Spiders, a daring rescue, minced Snark pies and Gooberberry slices!
Welcome to the magical world of Bluey the Blue Tier Dragon.
A fantasy adventure story for 8 to 14-year-olds
Bluey's Dad, Papa Smok, is off fighting for the resistance in Transylvania. When Papa Smok is captured and turned to stone by the evil Count Dragu, Bluey and his cousin Burney get drawn into a daring rescue plan. 
REVIEW: "In this book one enters the fantasy world of Tasmania's Tolkien, of innocent dragons, an evil Count Dragu, shapeshifting goblins, Snark pies and Gooberberry slices, of secret castles and ancient caves and seas.  It is a world that once one enters, one will never want to leave; a story to keep reading over and over about the adventures of the intrepid young dragons and elder magicians." ~ Don Defenderfer
---
We Also Recommend