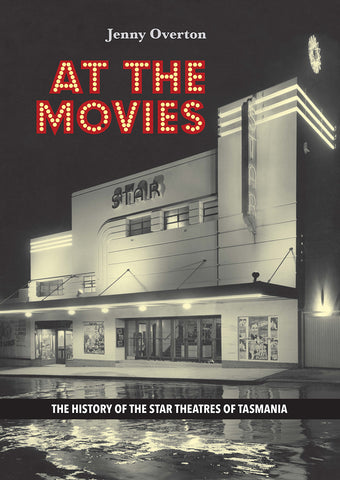 At the Movies: The history of the Star Theatres of Tasmania by Jenny Overton | HB
For anyone who can remember going to the movies as a kid in the north and west of Tasmania, it would have been at a Star Theatre. What began in the local town hall as travelling entertainment in the early 1900s, grew to a sophisticated and glamorous enterprise, thanks to the vision of Bob Hamilton. For almost 40 years, Star burned arc lamps and projected the films and film stars we grew to love onto the big screen. 
At the Movies: History of the Star Theatres travels in time through the 20th century from silent film, to the talkies, showing the development of the industry in the north and west of Tasmania. It tells what went on inside the dark theatres: the hi-jinks in the back row, falling in love, the terror of a horror flick. 
These old theatres have embedded themselves deeply into our hearts and memories, but sadly many of them are gone. Some still stand, repurposed, and two – the Paragon, in Queenstown, built in 1933, and the Star, in Invermay, built in 1937 – are screening once more, a wonderful tribute to those who built them more than 80 years ago.
---
We Also Recommend