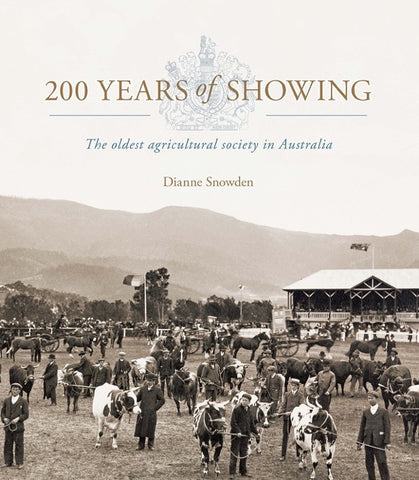 200 Years of Showing: The oldest agricultural society in Australia by Dianne Snowden | HB
Researched and written by Dianne Snowden for the Royal Agricultural Society of Tasmania
With a foreword from Her Excellency the Honourable Barbara Baker, AC, Governor of Tasmania

The Royal Agricultural Society of Tasmania (RAST) unearthed the first recorded heart beats of its origins in 1821 in a notice contained in the Hobart Town Gazette and the Van Diemen's Land Advertiser, requesting permission for a meeting of "Stockholders and Gentlemen connected with the Agricultural Interests". The notice sought permission from the Lieutenant Governor for a meeting at the Ship Inn in Hobart Town "for the purpose of establishing a Society, on the Principle of those existing in the Mother Country". According to the notice the Society would focus on protection of property, prosecution of offenders, remuneration to sufferers, the establishment of a cattle show, the distribution of bounties to deserving servants and "the Protection and Encouragement of Agricultural Pursuits in general". Two hundred years later, the need to distribute bounties to deserving servants may have faded, but the Show remains.

200 Years of Showing is one of the projects undertaken by the RAST to commemorate 200 years. The book covers the various versions of the Society and the colourful history of the shows, cups & trophies. Living Legends, Life Members, Patrons, Presidents, Secretaries, Treasurers, Council Members and Board Members have all been honoured. A highlight of the book is the rich variety of photos showcasing the people, events and stories that make up the RAST's rich history.

---
We Also Recommend