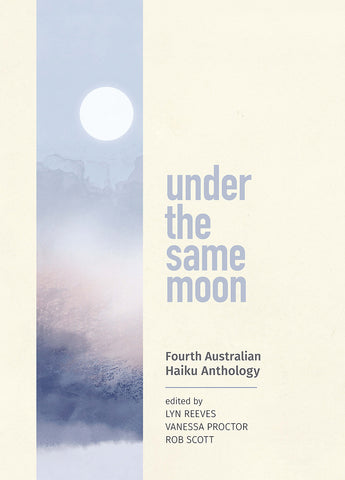 Under the Same Moon: Fourth Australian Haiku Anthology | eds. Lyn Reeves, Vanessa Proctor, Rob Scott
More than twenty years on from the formation of the Australian Haiku Society in 2000, and the publication of the First Australian Haiku Anthology (2001), haiku in this country has continued to evolve, diversify and to extend its reach far beyond our borders. 

There are 104 poets represented in under the same moon, each one helping to form and shape a unique Australian voice, whether that is through haiku with distinctly Australian kigo or through senryu which explores the human element of life in this country from its cities, suburbs and rural towns to the natural environment. 
Alive with birds and frogs, suffused with the threat of bushfire and flood, these haiku sing with the uniqueness of Australian life. The skill on show is breathtaking, as distinctive individual voices lay bare moments of joy, loss, awareness and connection to inner and outer landscapes. 
Esther Ottaway, Winner, Tim Thorne Poetry Prize, Arts Tasmania Literary Awards, 2022
As you read each haiku here in the time it takes for a frog to swim the length of a pear leaf, your senses will fizz like a rocket landing in an armchair.
Kevin Brophy, Emeritus Professor, University of Melbourne
---
We Also Recommend