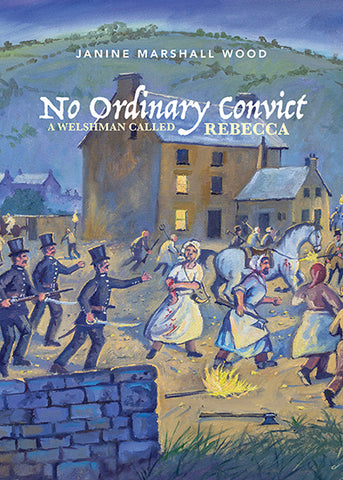 No Ordinary Convict: A Welshman called Rebecca by Janine Marshall Wood | PB
NOW AVAILABLE
Well told, well researched, with a wealth of colourful detail…No Ordinary Convict is written with fluency and elegance that makes it a pleasure to read. - Alison Alexander, writer and historian 
The Rebecca Riots took place between 1839 and 1844 to protest primarily about excessive tolls imposed on travel across the Welsh countryside. It was a just cause in a harsh, poverty-stricken era; a serious movement imbued with a sense of the ridiculous. Each protest was led by a young man disguised as a woman, face blackened, who was called Rebecca. He was followed by hundreds of his raucous 'daughters'.
John Hughes was a Rebecca. He was caught red-handed leading an attack to demolish a toll gate and tollhouse. Headline news across the Western world reported his trial, which resulted in transportation to a colony on the other side of the world.
ABOUT THE AUTHOR: Janine Marshall Wood is a former History, English and French teacher, who grew up in Melbourne but has lived and worked in four Australian states and two territories. Her passions are family, friends, reading, history and genealogy. You may often catch sight of her striding the streets of Hawthorn listening intently to a podcast, or laughing and talking on the phone.  She lives in hope that one day she will solve the mystery of John Hughes' wife.
---
We Also Recommend