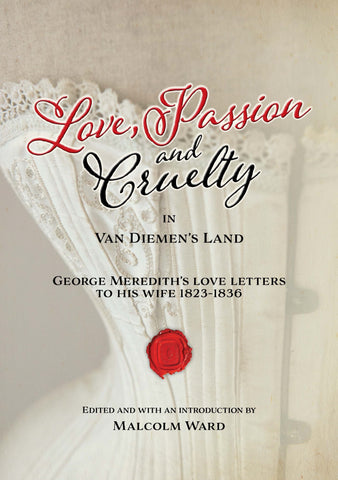 Love, Passion and Cruelty in Van Diemen's Land: George Meredith's Love Letters to his wife 1823-1836 Edited and with an introduction by Malcolm Ward
Malcolm Ward's fascinating selection of love letters from George Meredith to his wife Mary provides unrivalled insight into the intimacies of a prominent colonial family. In this beautifully produced book, Ward reveals Meredith's erotic side in 'love feasts' with a receptive Mary, who struggles to attain the high standards of respectability set by her adoring yet demanding husband. A riveting read.
~ Emeritus Professor Stefan Petrow
George Meredith was a pioneer, a former Royal Marine officer, and unafraid to take on powerful interests in his new home, Van Diemen's Land. He was also a bully and mostly acted in his own interests in colonial affairs. Within the privacy of his estate, he carried on a torrid relationship with his young wife, Mary, which he described and amplified in a series of sometimes graphic letters to her during his frequent absences from his farm. He mixed his passionate prose with cruel criticism of her for her failure to write back to him to his satisfaction.
ABOUT THE AUTHOR: Malcolm Ward is a Tasmanian historian, who completed a PhD on colonial settler George Meredith in 2020. He has several books to his name, mainly on themes of Van Diemen's Land colonial history and its built environment, including Built by Seabrook and Houses & Estates of Old Glamorgan. His current projects are a biography of George Meredith, 'The King of Oyster Bay', and research into Tasmania's second Premier, the fiery Thomas Gregson.
---
We Also Recommend