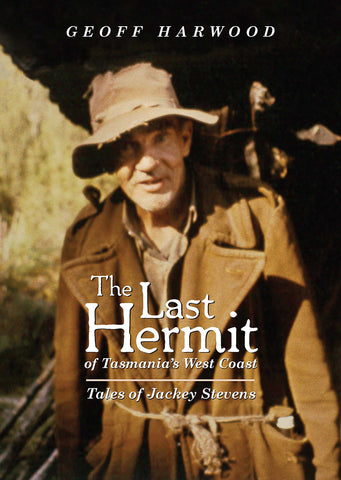 Last Hermit of Tasmania's West Coast, The: Tales of Jackey Stevens by Geoff Harwood | PB
An un-put-downable tale flows effortlessly from Geoff Harwood's pen. ~Pete Hay

Clarence John Lyell Stevens - Jackey - preferred a life of poverty and isolation to a society that had seriously let him down. He had been a hermit since returning from the Second World War. "He can't bear to be anywhere near others," Queenstown old timers told Geoff Harwood. "If he sees you, he will run away and hide. He won't talk to anybody." Yet Jackey did talk to Geoff.
Across a creek and through a dense thicket of coral fern, Jackey's distinctive footprints led Geoff to Jack's camp, a ramshackle structure shared with the Brown Serpent. 
Geoff became a regular visitor, and somehow Jack always knew if Geoff was coming. He would stoke up his tiny fire and, in its feeble glow, Geoff slowly pieced together Jack's remarkable, tragic, yet strangely uplifting story.
The Last Hermit is testament to a most extraordinary friendship.
---
We Also Recommend