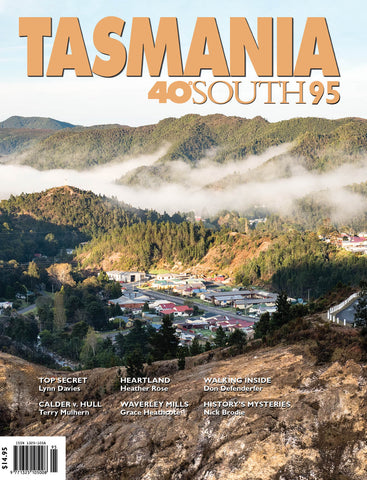 Tasmania 40°South Issue 95, Summer 2019/2020
INSIDE ISSUE 95: 
Calder v. Hull | Terry Mulhern
Heartland | Heather Rose
Hanging by a thread | Grace Heathcote
Walking inside | Don Defenderfer
Portfolio: Roar and peace | Pen Tayler
History's mysteries: Marriage vows | Nick Brodie
Artists and artisans: Bill Mearns | Pen Tayler
Young Tasmanian Writers' Prize 2019
Short fiction: A matter of life and death | Ben Smith Noble
Short fiction: Bay of Fires | Alice Socorro
AND MUCH MORE...
From the editor: One of the joys of being the publisher of a glossy magazine is that you get to meet good photographers. Some people look at a photographer and see a person carrying a camera. When magazine editors look at a photographer they see a magician, someone who understands the insubstantial world of light and shadow and knows how to weave them into reality.

The closest thing Tasmania 40°South has to a staff photographer is Pen Tayler. She's not on our staff because she and her camera weave magic around subjects often beyond the geographical and thematic boundaries of this magazine. When we need a photographer, however, she's the first person we turn to.

We turned to her when we decided to publish a book of fine words (written by Bert Spinks) and images of Tasmanian towns. We turned to her when we decided to create a 2020 calendar based on that book. The results were magical, and both book and calendar are now available through the 40S Bookshop at fortysouth.com.au.

This issue, then, is something of a celebration of the art and magic of Pen Tayler. Her work is featured on the cover, in Parting Shot and in a special Portfolio featuring Flinders Island. Thank you, Pen Tayler. 
---
We Also Recommend