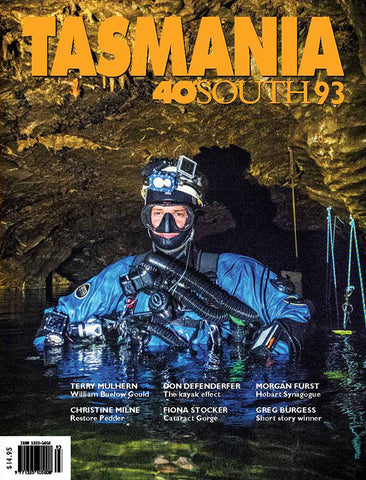 Tasmania 40°South Issue 93, Winter 2019
INSIDE ISSUE 93: 
William Buelow Gould | Terry Mulhern
The kayak effect | Don Defenderfer
Restore Pedder | Christine Milne
Cataract Gorge | Fiona Stocker
A la Louise: Food to go | Louise Bowers 
Wine: A personal journey | James Fouché
About Books: To tell or not to tell | Lian Tanner 
     AND MUCH MORE...
From the editor: Lake Pedder in south-western Tasmania was formed during the last Ice Age. It was extraordinarily beautiful. It lay in a large, flat valley, the source of the meandering Serpentine River, surrounded by mountain ranges. It covered nine square kilometres and was ringed on its eastern shore by a white quartzite beach and sand dunes.
Until the 1960s only indigenous Tasmanians and, later, avid bushwalkers had ventured into this rugged wilderness, but this changed when protection provided by its national park status, granted in 1955, was revoked by the Tasmanian government in 1967.
Lake Pedder, which had survived for about 10,000 years, was destroyed in 1972 in the interests of hydro-electricity generation. Now a group of determined Tasmanians wants to reverse history and restore one of Tasmania's crown jewels.
Is such a thing even possible? Christine Milne, former leader of The Greens party in Australia, is now a leader of the Restore Pedder mission. She explains how and why.
Beautiful Tasmania may be a theme for this issue: we have Terry Mulhern writing about the seminal works of Colonial artist William Buelow Gould, Mulhern again writing about old growth timber, Fiona Stocker getting whimsical about Cataract Gorge, and the beautiful mind and words of Don Defenderfer doing what he does uniquely well, meandering through the spirit of Tasmania.
---
We Also Recommend