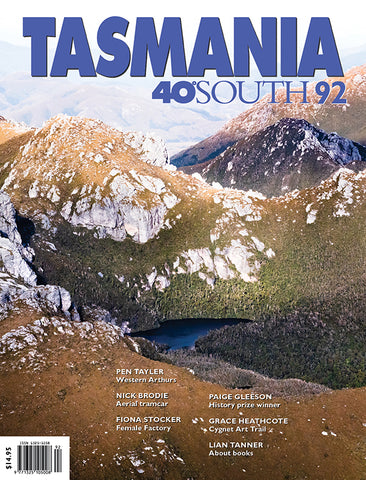 Tasmania 40°South Issue 92, Autumn 2019
INSIDE ISSUE 92: 
Portfolio: Above the Western Arthurs | Pen Tayler 
Hobart's aerial tramway | Nick Brodie 
A far cry | Fiona Stocker 
The Van Diemen's History Prize 2018-2019 winning article | The fantasy of the past by Paige Gleeson   
Handmade in Cygnet | Grace Heathcote 
The Seagram touch | Fiona Stocker 
A la Louise: Gin is in; ham is glam | Louise Bowers 
About Books: Girls in the basement | Lian Tanner 
     AND MUCH MORE...
From the editor: It is serendipitous, surely, when you are presented with a feature story, a poem and a history writing prize winner that are all on the same subject. The subject is the Cascades Female Factory, that grim relic of a time less tolerant, of a society less humane. The feature story is by Fiona Stocker who, on her first visit to the convict prison, had "no inkling of what to expect within the factory's towering sandstone walls". Stocker, who did not grow up in Tasmania, had no inkling of the brutality of the story she discovered that day. She was so confronted by what she saw that she determined to return, when she had more time and did not have a family in tow, to look more deeply. Then she used her formidable writing skills to try to describe what she saw, and felt. The result is confronting. It is a story as essentially Tasmanian as anything we have ever published. It is a beautiful piece of writing. 
Penny Lane has known and understood the Cascades Female factory narrative most of her life. When this award-winning writer submitted a poem just days after I had read Fiona Stocker's piece, and asked modestly if I thought it usable in Tasmania 40°South, the answer was never in doubt.
Paige Gleeson is also an award-winning writer, despite being young. She is studying history at the University of Tasmania, and submitted a piece of research about a famous "incident" at the Cascades Female Factory. Her piece, researched like a true historian and written like a true storyteller, won the inaugural Forty South Van Diemen History Prize, and completes our Cascades Female Factory trilogy. 
---
We Also Recommend