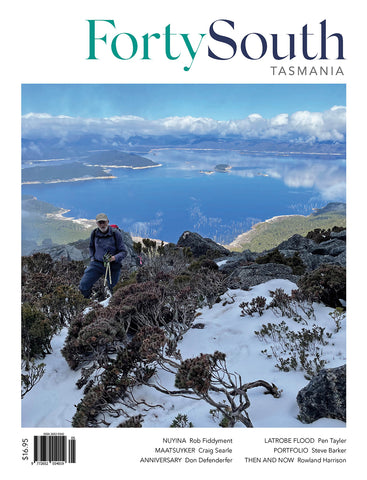 Forty South Tasmania Issue 105, Winter 2022
INSIDE ISSUE 105
Finding the light | Rob Fiddyment
Force 12 on Maatsuyker | Craig Searle
The house that lived | Pen Tayler
Lobster Tales: Mr Gray's mysterious collector, Part 2 | Terry Mulhern
Portfolio: On Flinders Island | Steve Barker
Tasmanian Voices: Thoughts from a pandemic island | Lyndon Riggall
Then and now: The mould in which I was cast | Rowland J Harrison
Abels: Clear Hill and Mount Wedge | Rob Shaw
Forty South Tasmanian Writers' Prize 2022 - winning story "How I got this tattoo" by Christine Betts
 AND MORE...
From the editor: 
Hobart has a floating suburb. Like Brigadoon, you can wake up one morning and it's not there. But there always comes another morning when it's back, adding its orange signature to a Tasmanian sunrise. For a long time, it was known as Aurora Australis, an icebreaker and Antarctic research ship which over 30 years became such an accepted part of the Hobart landscape that one felt it was there even when it was away breaking ice. 
And then they announced that Hobart's floating suburb was to be taken away. Past her use by date, they said. It was to be replaced, but with what? Who is comfortable with losing an old friend? 
Aurora Australis was ours just as certainly as Antarctica is part of Tasmania. She was quintessentially Tasmanian: a rugged survivor of the southern seas, a real orange toughy. Her replacement has much to do to take her place in our landscape and in our hearts.
But she's made a great start. She is orange. And her name, Nuyina, decided by school children, is the palawa kani word for the southern lights. Aurora Australis is Latin for the southern lights. That's a smile-worthy narrative. 
Give her time, Hobart's new floating suburb. And fast-track your acquaintance with Rob Fiddyment's introduction in this issue.
---
We Also Recommend