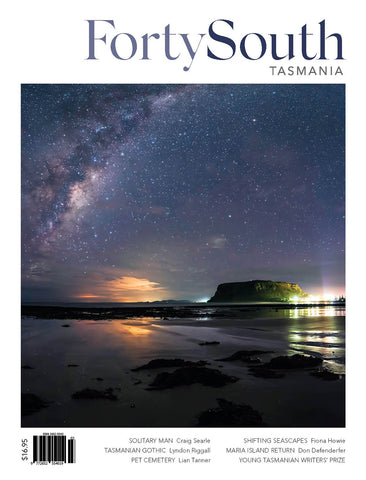 Forty South Tasmania Issue 103, Summer 2021-22
INSIDE ISSUE 103
You can't kill history | Lyndon Riggall
Shifting seascapes: a climate change story | Fina Howie
Maria Island return | Don Defenderfer
Nothing bigger than a goat | Lian Tanner
Artists and artisans: Kerrawyn reborn | Pen Tayler
Lobster tales: Life underground | Terry Mulhern
The Abels: Good Day, bad day | Rob Shaw
Young Tasmanian Writers' Prize 2021:
Fiction: Terrified of the telegram boy | Jemimah Satchell
Fiction: Drowning in love | Monique Schnitzer
AND MORE...

From the editor: 
Someone whose opinion I respect greatly recently told me, "You have a lot of seriously talented people writing for Forty South Tasmania." I'd love to square my shoulders and preen a little and blow loudly on my trumpet for a while, but that would be something of a sham because it has been so since long before I became editor. In fact, it has been so since before Forty South was born almost 27 years ago. It has been so since the first issue of Forty South's predecessor, Leatherwood, in 1991. With that publication was born the culture of good writing that has followed ever since. An article about something Tasmanian has never been enough. We are, and always have been, about good writing. 
There is, of course, a third string to our bow: to good Tasmanian stories and good writing, we must add good photography. Tasmania is photogenic, which helps, and we have a long history of superb photographers in this state. Tony Robertson is one, and he features in this issue of Forty South for the first time. Stanley's extraordinary The Nut is photogenic too, but we have never seen anyone capture it the way Robertson has. After agonising over which of his beautiful images to use for over cover shot, I gave up and decided to use two of them, on the cover and for Parting shot.  
Another talented Tasmanian photographer is Craig Searle. He is a dedicated hiker who regularly joins Rob Shaw in ticking another Abel off their list, and his photographs have appeared regularly over many Forty South issues helping illustrate Rob Shaw's column about those climbs. In this issue, however, Craig Searle shows us that he is a writer, and a natural story teller, as well. His lead article contains mystery, adventure and a love of wilderness. 
We have had some seriously talented writers, photographers and tellers of Tasmanian tales over the years, but Craig Searle may be our first true all-rounder. 
---
We Also Recommend