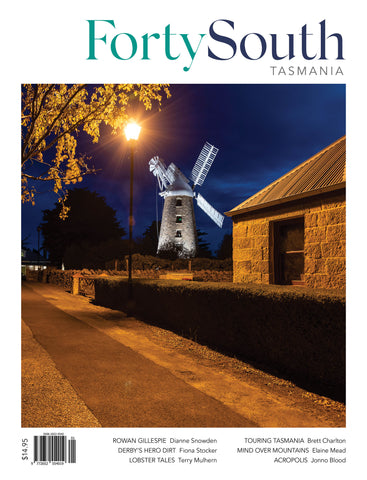 Forty South Tasmania Issue 101, Winter 2021
INSIDE ISSUE 101
Shaping history: Rowan Gillespie's statues | Dianne Snowden
The hero dirt of Derby | Fiona Stocker
Lobster Tales - Gould's Creek | Terry Mulhern
 The getaway guide: The Gardens | Brett Charlton
High and dry: Jonno Blood
The Abels - Frenchmans Cap | Rob Shaw

Artists and Artisans - Diane Brown: glass artist | Hilary Burden
The Patch - Burning questions | Peter Grant
Tasmanian Writers' Prize 2021 | Winning story, Saving Daniel by RI Quin
AND MORE...

From the editor 
William Blake said, "Great things are done, when men and mountains meet; This is  not done by jostling in the street." To me, beaches are the realm of romance, and forests the place to find tranquillity. I find mountains much harder to define. If I had to find one word, I would choose "awesome", in its truest sense. 
Welcome to what I will term the "Mountain Issue" of Forty South, featuring three articles about the awesomeness of mountains. Rob Shaw and Jonno Blood go climbing, and find fresh ways to describe the awe that this inspires. Elaine Mead is climbing a different mountain: explaining, from a psychologist's point of view why it is that great deeds are done, great thoughts are thought, when men and women reach for the clouds. It's awesome reading. 
What do Dublin, Toronto and Hobart have in common? The answer is major sculptural installations by Rowan Gillespie. This is an international story with Tasmania as a major component, and we are delighted to have renowned historian Dr Dianne Snowden telling it for us. 
---
We Also Recommend