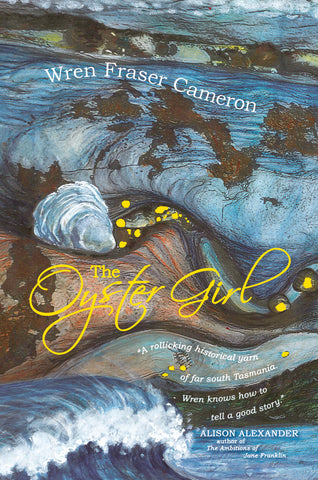 Oyster Girl, The by Wren Fraser Cameron | PB
A rollicking historical yarn of far south Tasmania. Wren knows how to tell a good story. 
~ Alison Alexander, The Ambitions of Jane Franklin
This is a version of lutruwita / Tasmania that you have never read, a story of the sea and sailing, a novel that tells the story of an island through the eyes of an unforgettable woman, Pearl Macqueen, the Oyster Girl. Starting as it means to go on, seismically, The Oyster Girl traces Pearl from her time as an indentured worker diving for mutton fish and crays through love, friendship, fortune and some of the cruel dealings of fate. Cameos from many of the island's most recognisable historical figures, fleshed out with failings and foibles, are spotted throughout the story. For one so vulnerable in her time - a woman alone - Pearl is a feisty and textured character who will stay with you long after you have finished reading. 
This remarkable first novel delivers a window onto a slice of Tasmanian history and culture which is powerfully evocative and mercurial in its slippery undertow and fleet narrative. Wren's capacity to mirror deep historical research with a rich lived understanding of the birds, botany and bones of the landscape in the Far South of Tasmania had me riveted to the page. The 'Oyster Girl' is a sensational novel and I recommend it highly. 
~ Deborah Wace, Tasmanian botanical artist, print maker, fabric designer, lover of natural history, and ecological activist.
About the author: Wren Fraser Cameron lives off grid in the far south of Tasmania. She has worked as an educator, arts administrator, community developer and environmental activist. She was Bob Brown's first running mate for parliament and her work can be found in various government filing cabinets and in the poetry collection Long swell of passing, Esperance Press. Her work has also been included in River of Verse, edited by Helen Gee and she has had essays on plant pressing and historical voyages to Australia published by The Understory Network.

---
We Also Recommend